Spellex-Anywhere
Spellex-Anywhere is a unique spell check tool that works almost anywhere to make you more accurate and productive. Simply place your cursor inside any text you want to spell check and press the F11 key on your keyboard... it's that easy! Spellex-Anywhere gives you the ability to spell check in programs such as: OpenOffice, LibreOffice, Skype, Firefox, Yahoo Messenger, Trillian, Pidgin, Notepad, Wordpad, Adobe Programs, and more!
Spellex-Anywhere with Skype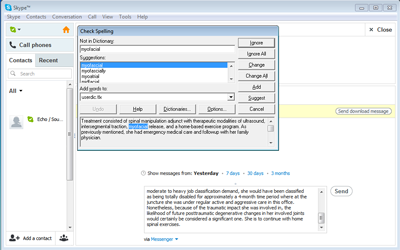 Includes International language spelling files to spell check in: American English, British English, Danish, Finnish, French, German, Italian, Norwegian, Portuguese (Iberian and Brazilian), Spanish, and Swedish. Add any of our spelling specialties, such as medical or bioscience, to have a complete spelling solution.
Use Spellex-Anywhere v4.0
On the Internet when typing text in search engines or filling out forms
In programs that don't support Spellex specialty spell check programs
In programs that don't have a foreign language spell checker
When typing Long File Names
Using Windows Notepad or Windows WordPad
Typing Instant Messages
All those spots that software programs leave out, such as notes and comments fields
*Spellex-Anywhere may not be suitable for Windows programs which already contain an internal spell checker or provide formatted text.